It's now easier than ever to export your historical trades from your NAB Trade account — and automatically add future buy and sell trades — to your Navexa portfolio tracker account.
Navexa's portfolio tracker provides insights into holding and portfolio performance, returns, income, diversification, tax and more.
To deliver accurate and up-to-date tracking and analytics data on your portfolio, your Navexa account requires that you upload your data.
There are three ways to do this.
First, you can add your holdings manually, one at a time.
If you only hold a handful of stocks and you trade relatively infrequently, this might suit you just fine.
Just select 'Add Holding' next to your portfolio's name when you're viewing your portfolio in Navexa to add holdings manually.
The second way to add portfolio data to your account is to upload a .csv or .tsv file using our Portfolio File Uploader tool.
This requires that you collate and format the document and run it through our tool to ensure we correctly add each of your trades accurately.
To add data this way, select 'Import Portfolio File' from the dropdown menu next to your portfolio name.
But if you're trading with NAB Trade, there's a third, much quicker, more direct way to accurately add your historical trade data to your Navexa portfolio.
Quickly & Easily Add Your NAB
Trade Portfolio to Navexa
Here's the best way to add your historical trades to Navexa if you're a NAB Trade customer.
Next to 'Add Holding', you'll see the option to 'Import From Broker'.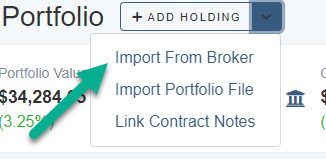 This brings you to a list of brokers. Simply find and select NAB Trade.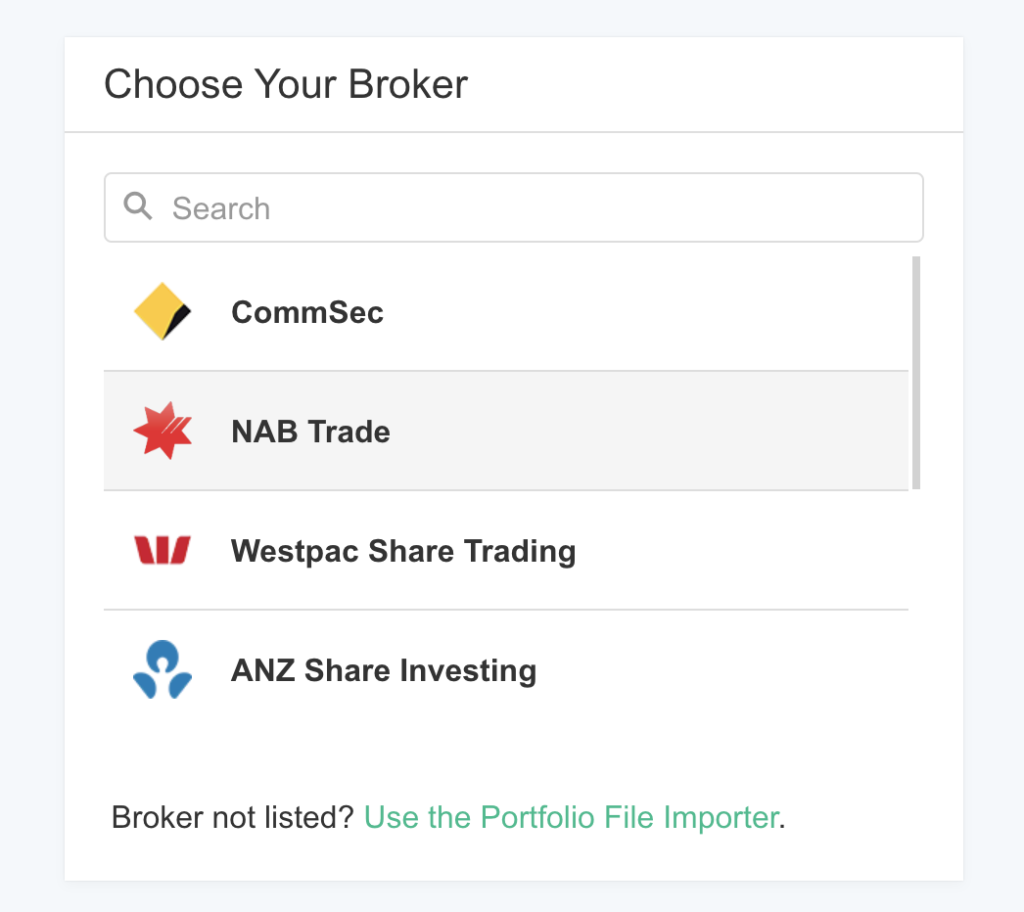 Below the NAB Trade account screenshot, you'll see a list of steps to go through to export and add your data to Navexa.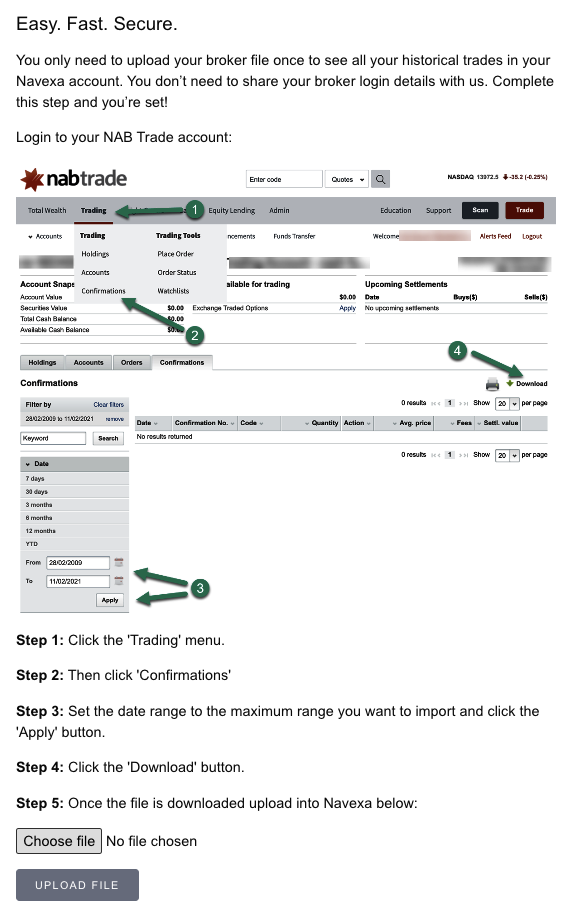 Follow the instructions in the list:
Step 1: Click the 'Trading' menu.
Step 2: Then click 'Confirmations'
Step 3: Set the date range to the maximum range you want to import and click the 'Apply' button.
Step 4: Click the 'Download' button.
Step 5: Once the file is downloaded, upload in Navexa below:
From here, select 'Choose File' to find it on your computer.
Then, click 'Upload File'.
Now, you'll see this: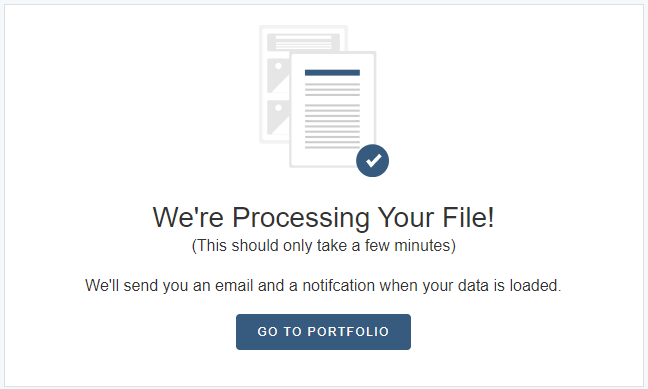 It should only take a few minutes for your NAB Trade data to show up in your Navexa account.
You'll receive an email confirming this.
Then, you'll be able to use your Navexa account to browse all your historical NAB Trade trades and holdings!
Automatically Add New NAB Trade Buy & Sell Trades to Your Navexa Account
You can use Navexa Link to automatically forward your NAB Trade contract notes to your account.
This will mean every time you make a new trade, you'll see it reflected in Navexa shortly afterward.
This is how you set it up.
Click 'Manage Portfolios'.

Find the portfolio you want to update with your new trades, click 'Actions', then click 'View/Edit'.

Under 'Navexa Link', you'll see an email address.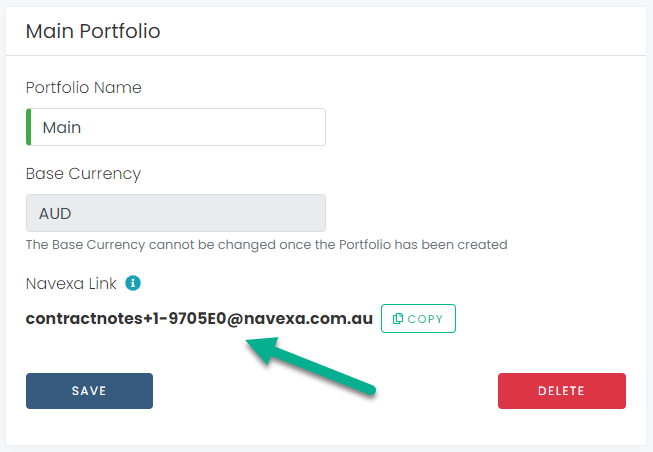 This is your unique forwarding email address for the portfolio.
Copy it, go to the email account where you receive your NAB Trade contract notes, then create an email rule that forwards all future contract note emails to this address.
Just allow five minutes or so for us to set up your account to display the new trades.
Integrating Your NAB Trade Account
With Navexa Has Never Been Easier
With our NAB Trade Broker File Upload, and Navexa Link, you just need to complete two tasks when setting up your Navexa account.
Upload your historical trades to bring your Navexa account up to date with your NAB Trade account.
Then, set up Navexa Link contract forwarding for your portfolio or portfolios.
You'll never have to manually add a trade again.
And if you want to create another portfolio, simply repeat the process for historical trades and contract note forwarding.