CommSec is one of the most popular trading platforms in Australia. Here, I share my experience researching and executing trades on the platform in this in-depth CommSec review and give my honest opinion on the pros and cons.
If you're investing in Australia, chances are you've heard of CommSec.
The trading platform attached to one of the country's biggest banks is one of the highest-profile stock brokers in the national market.
This in-depth CommSec review gives you my honest opinions about the platform.
I've been using CommSec to trade since 2013.
I wouldn't continue to use it were it not a robust, reliable provider of brokerage and settlement services.
But, as you'll see, while CommSec does deliver a lot of value, in my opinion, it's not perfectly suited to all the self-directed investor's needs.
Before you read on, full disclosure: I'm the founder of Navexa, a dedicated portfolio tracking platform.
While my product doesn't compete with CommSec in any way, my views on certain aspects of the CommSec platform may be (let's face it, they are) biased.
OK, let's begin my Commsec review!
Opening a CommSec Account: Here's What You'll Need
If you're an Australian resident with all your basic credentials at hand, it's pretty straightforward to open a CommSec account.
Make sure you have these details ready:
The personal details from an official ID like your passport or driver's license.
A valid Australian residential and postal address.
A valid email address.
Your mobile phone number.
Your Australian (or, if applicable, overseas) tax information.
Got all that? Then you're good to go.
Now, you have two options when you create your CommSec account.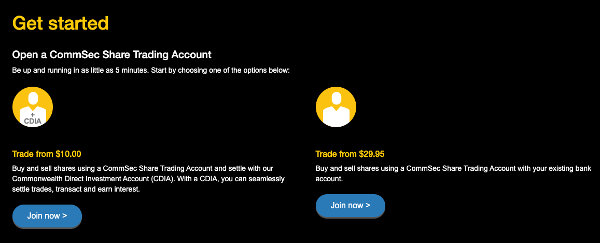 The first lets you create a CDIA (Commonwealth Direct Investment Account) when you create your trading account.
The second lets you use your existing bank account for your trading transactions and settlements.
As you can see, CommSec incentivizes you to open a CDIA with them rather than use another bank account.
Transacting and setting with them means you can trade for as little as $10 as opposed to about three times that if you choose not to.
Your next stop is a standard series of forms, which, I have to say, are pretty painless given the high level of regulation around investment services.
Buying & Selling Shares Using Your CommSec Account
So you've set up and verified your CommSec trading account.
You're ready to buy shares.
Here's my quick guide for you.
Along the navigation bar at the top of your account, click 'Trading'.
That will bring you to the screen below: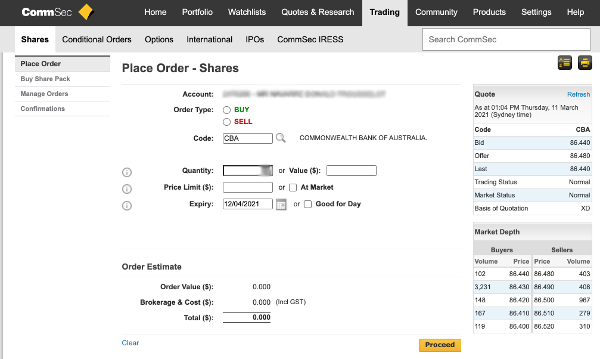 Like most traditional trading platforms, CommSec's buy and sell function is pretty self-explanatory.
Select either BUY or SELL.
Enter the ticker symbol of the stock or fund you wish to trade — this will bring up a useful table to the right showing you the current quote details and market depth data below that.
Enter either the quantity or value you wish to buy or sell.
Then, enter the price limit or select 'At Market' if you're not worried about short-term price fluctuations while CommSec fulfills your order.
Finally, use the dropdown menu to choose an expiry date for your order, or select 'Good for Day'.
Now, you'll see the order details estimated in the table below.
From there, just hit 'proceed'.
In my experience, executing trades in my CommSec account is straightforward.
I like that I can control my buy and sell limits, and set orders to stay in the market until an expiry date if I need to.
I also value the quote/market depth snapshot I get each time I enter a ticker symbol before I enter the particulars of a trade.
So, those are the basics of getting started — creating your CommSec account and placing your first trades.
Now, let me dive in and review some of the key features CommSec offers customers.
I've been trading on the platform since 2013, so what follows are my personal opinions based on my experience over the past eight years.
First, a word on CommSec's fees.
CommSec Trading Fees: Definitely Not The Cheapest In Australia
CommSec encourages you to choose their CDIA-linked trading account by saying 'Trade from $10.00'.
While that's a good price for a single buy or sell, I want to point out that this only applies to trades up to $1,000.
For trades over $1,000 and up to $10,000, you'll pay $19.95.
For trades over $10,000 and up to $25,000, CommSec will charge you $29.95.
Above $25K, you'll pay a percentage-based fee; 0.12%.
As this useful list shows (https://www.canstar.com.au/investor-hub/online-share-trading-platforms-lowest-fees/), there's plenty of trading platforms that will charge you much lower trading fees.
Over on CommSec's Pocket mobile app, the fees are different.
They'll charge you just $2 for trades up to and including $1,000, and 0.2% on anything above that.
For me, while CommSec's fees may not be the lowest available, the platform does justify its pricing in one key area.
I'll cover that later in this Commsec review.
Go here for full details on CommSec's trading fees, including international trades.
CommSec's Portfolio Section
I should mention that the CommSec interface has two rows of navigation.
Along the top, you see the major sections, including Portfolio.
When you click one of these tabs, you'll see a sub-menu below it.
In the case of the Portfolio tab, you'll also see Accounts, Statements, Profile & Security, Offers & Apply, and CommSec One — a high level service for advanced traders.
In my opinion, you can't criticize CommSec for a lack of information and resources.
The account is packed full of data and tools to help you research and execute trades smoothly and securely.
I'll quickly walk you through all the information you can find under the Portfolio tab.
First, you'll see an overview of your trading account:
Today's change in dollars and percentage terms.
Your total profit or loss.
Your CDIA account balance (if you've selected it during setup).
Information on international shares and options, if these apply to you.
I don't personally trade international shares or options, so I can't review these parts of the CommSec service.
Under Accounts, you'll see a holding-by-holding breakdown of your portfolio.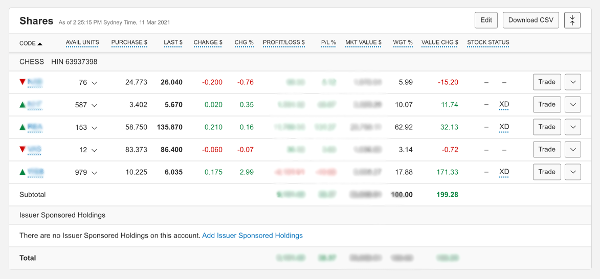 Under Statements, you can view and download trading account statements by financial year.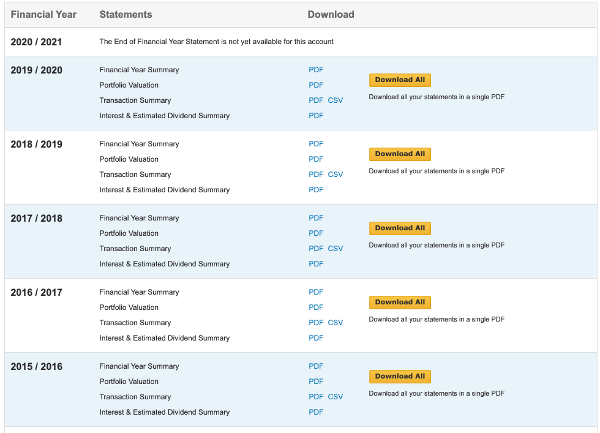 Profile & Security contains your CommSec accounts display, personal and password settings.
Offers & Apply may at first seem like nothing more than a screen on which to set your email promotion alert preferences, but scroll down and you'll see a large amount of potentially very helpful options!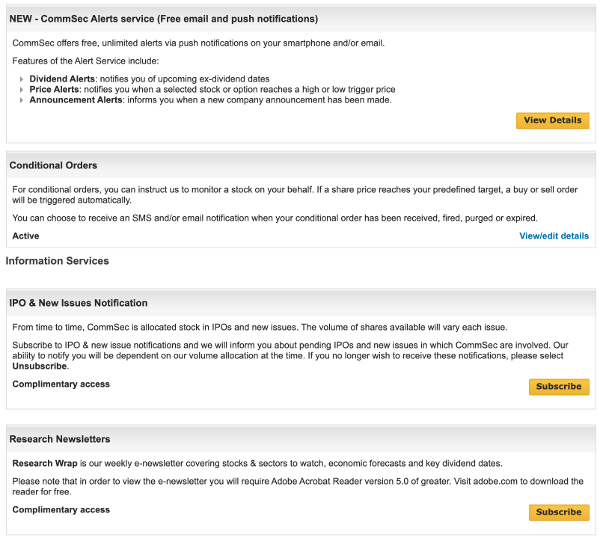 Here you can subscribe to research newsletters, IPO alerts, and CommSec's new email and push notification alert service for updates on trigger prices, upcoming ex-dividend dates, and more.
This is a great example of the serious firepower CommSec offers investors who want tailored, up-to-date data about their portfolio or investments they're researching.
In my experience, CommSec makes it easy to access information about both your trades and the relevant market intelligence you want for your next potential buy or sell.
This brings me to the next feature I want to highlight.
How CommSec's Watchlist Can Help Your Investment Research
One of my favourite features of the CommSec platform is the Watchlist section.
You can find it between the Portfolio and Quotes & Research tab along the top of your account.
When I make an investment — a buy or a sell — I prefer to do a LOT of research into the company, its stock, and especially its valuation.
(I'm a disciple of the Warren Buffet and Charlie Munger school of investing.)
That's why the watchlist tool in my CommSec account suits me.
I can easily create multiple lists of stocks and funds I want to analyze and track — sometimes for months.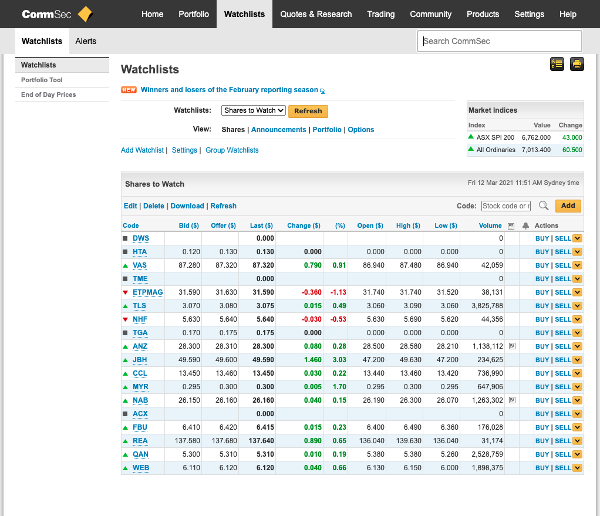 When I check my watchlist, I can see at a glance what these assets are doing in the market.
I can rank them by price movement, open, close, volume, and more.
And, I can just click the end of each row to open a buy or sell trade on any of them.
I can also toggle the view and see things like announcements, which I find useful in the research phase.
That part of my investing — the research — is what keeps me on board as a CommSec customer.
Let me explain.
CommSec's Research Tools Are Second To None In Australia
If you click Quotes & Research, you'll come through to what, in my opinion, is an absolute war chest of investment research.
One that makes CommSec's not being the cheapest broker in Australia forgivable.
There's a huge amount of data and insights within your account.
In the Market tab, you can see what's happening on the ASX right now.
A performance heat map.
Latest headlines.
Official CommSec summaries.
Video reports.
A list of upcoming dividends.
These make this page alone super useful to anyone wanting to keep their finger on the market's pulse.
The Sectors tab lets you drill down on each of the ASX's sectors with performance graphics, peer analysis, headlines, and research from Goldman Sachs.
You can also see market-sensitive announcements and trending searches!
One particularly useful tab — and one that in my opinion is great for those just learning about investing in the market — is Trading Ideas.
The Trading Ideas screen comprises recommendations from Morningstar and Goldman Sachs on which investment their analysts believe are worth buying, selling, or holding.
You can find more from Goldman and Morningstar on the Recommendations tab.
You'll also find an ETF Screener and Stock Screener among many other useful tools.
Having access to stock-specific research from providers of this calibre is a huge asset for the everyday investor.
I can compare my own findings and opinions against detailed research papers from some of the biggest names in the investment intelligence business.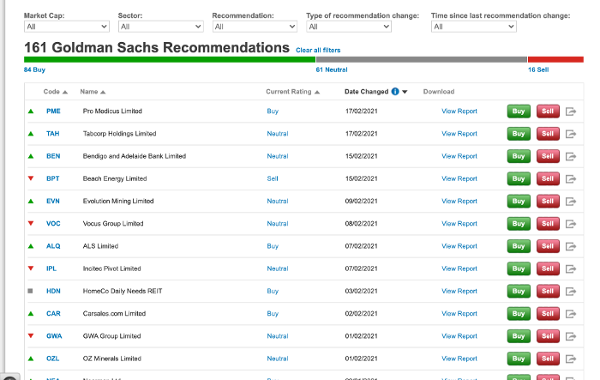 At the time of writing, there were 161 Goldman recommendations in my CommSec account.
And I don't just mean the 'Buy', 'Sell' or 'Neutral' in the 'Current Rating' column.
If you click on 'View Report' you'll go through to an incredibly detailed, in-depth research paper the bank has published on that stock.
For instance, the Pro Medicus Limited report is 16 pages long and packed with more charts and commentary than you might imagine.
Diving this deep into your CommSec account does deliver some major firepower when it comes to acquiring knowledge on a potential investment.
In my opinion, not only is CommSec a robust, secure, and reputable (if not the cheapest) trading platform.
It's a portal for self-directed investors to connect with market-leading research and recommendations from some highly respected and credible sources.
For this reason alone, I believe CommSec is a brilliant trading platform for Australian investors.
However, when I consider all my needs as a self-directed investor, there's one area where I feel CommSec is lacking.
CommSec's Weak Point: Portfolio Performance Tracking
Full disclosure: I am the founder and lead developer of a dedicated portfolio tracking platform designed purely to help self-directed investors understand their true returns and performance.
So you could say I'm a little biased on this point.
Despite giving me loads of valuable information on the market and the various recommendations I just mentioned, CommSec doesn't deliver a huge amount in the way of data, analytics and reporting about my portfolio itself.
Take a look at the portfolio screen.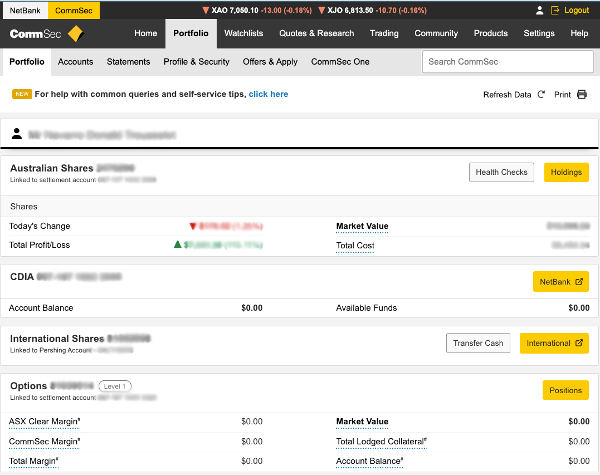 Having been in the market since 2013, and done my fair share of buying and selling, all I can see are two performance metrics: Today's Change, and Total Profit/Loss.
To be blunt, that's not enough for me.
Why?
Because portfolio performance is a lot more complex than just my total profit or today's change.
I need to see lots more.
My annualized return, for one.
What about brokerage fees? Taxes? Dividend income?
All these factors impact my returns, so I want to see them all when I'm checking my portfolio in my CommSec account.
That isn't to say CommSec is lacking anything.
It's a trading platform designed to deliver robust brokerage services and market intelligence.
It delivers both those things, especially the research component.
But — and this is also my personal, and obviously biased opinion — CommSec falls short of my requirements for tracking, analyzing, and understanding my portfolio performance beyond just my daily or annual gains.
CommSec Is A Powerful, Valuable Trading Platform
As I've said, I've used CommSec for my investing since 2013.
The platform gives me more than enough functionality and value to justify trading on it.
However, as a self-directed investor with an appetite for data and analytics, I ran into problems when trying to track my portfolio performance.
That's precisely why I created and launched a dedicated portfolio tracker, Navexa.
Navexa tracks the annualized, true performance of my portfolio and its constituent holdings with far more detail than I can access in my trading account.
By 'true' performance, I mean my net gains (in dollar and percent terms) after I've accounted for the time in the market, trading fees, currency gains or losses, taxation, and dividend income.
In other words, my portfolio tracker gives me a complete picture of my actual portfolio performance, as opposed to a partial one.
Plus, I can generate a variety of reports, from calculating unrealized capital gains to taxable income, portfolio contributions, and many more.
So, for me, pairing my CommSec trading account with a dedicated portfolio tracker like Navexa gives me everything I need.
I can research and execute my trades in my trading account.
And I can track and analyze those investments and my portfolio as a whole in Navexa.
I hope my CommSec review has been helpful for you.
If you're interested in learning more about your true portfolio performance, beyond just what you can find in your CommSec account, check out Navexa.