We're pleased to announce Navexa Premium, our enterprise-level platform helping simplify and streamline client portfolio tracking for financial advisors and managers.
While we focused on developing our portfolio tracker in 2020, we received several enquiries from professional portfolio managers asking if we were able to offer them an enterprise-level solution.
Initially, the answer was no.
Now, after months of work and collaboration with some key partners in the financial management industry, we're pleased to say the answer is yes.
Navexa can now announce we're able to offer a competitively-priced enterprise-level portfolio tracking platform for professional financial advisors and managers.
Navexa Premium packs all the core features of our portfolio tracker in an advanced platform that allows you to add, track and report on as many client portfolios as you need.
Track, Analyse and Report On Stocks,
ETFs, Cryptos & Unlisted Investments
At its core, Navexa Premium delivers all the tracking, analysis and reporting capability and tools of our retail platform.
If you're new here, here's a recap.
Navexa uses official data from the ASX, NYSE and NASDAQ to deliver insights on an investment portfolio.
What sort of insights?
The ones that matter most to investors: Portfolio performance, portfolio contributions, dividend income tracking, taxable capital gains and income (and much more).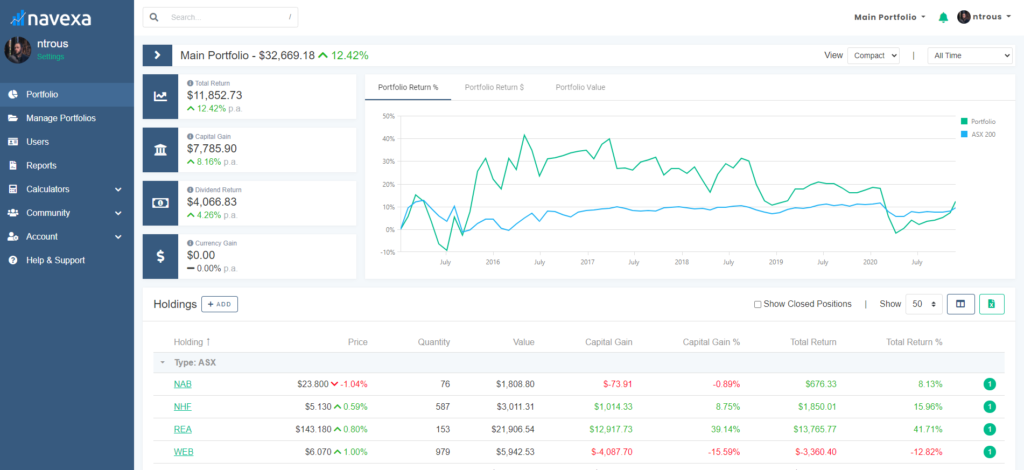 From the portfolio to the individual holding level, Navexa gives you near real-time performance insights.
It also lets you set parameters for each holding so that you can classify trust income and change dividend reinvestment policy settings.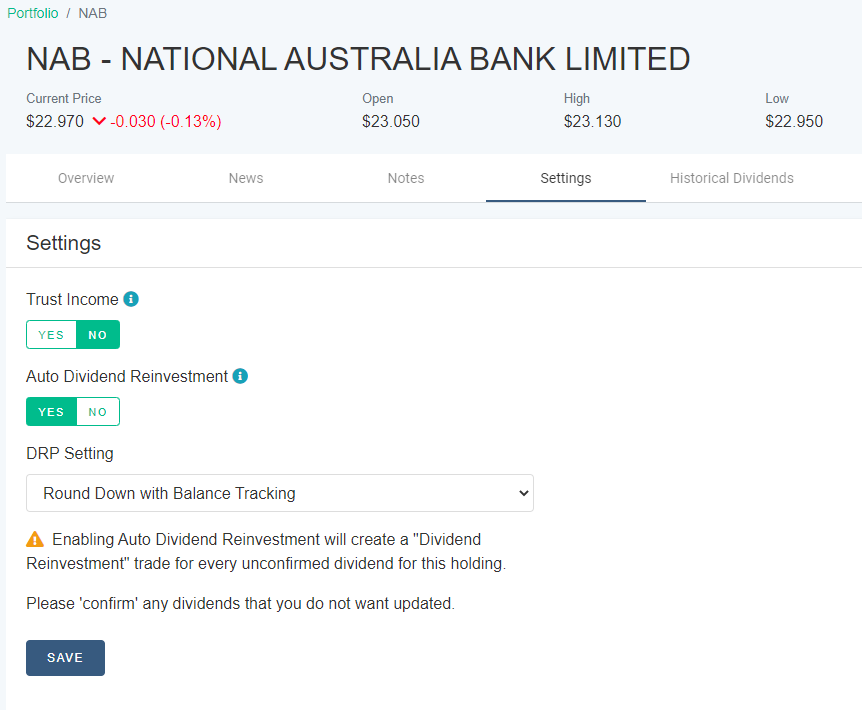 Coupled with this capability are nine reports across three key areas of your portfolio:
General: Portfolio Performance, All Trades and Portfolio Contributions
Dividends: All Paid Dividends, Upcoming Dividends, Dividend Contributions
Tax: Taxable Income, Capital Gains Tax, Unrealised Gains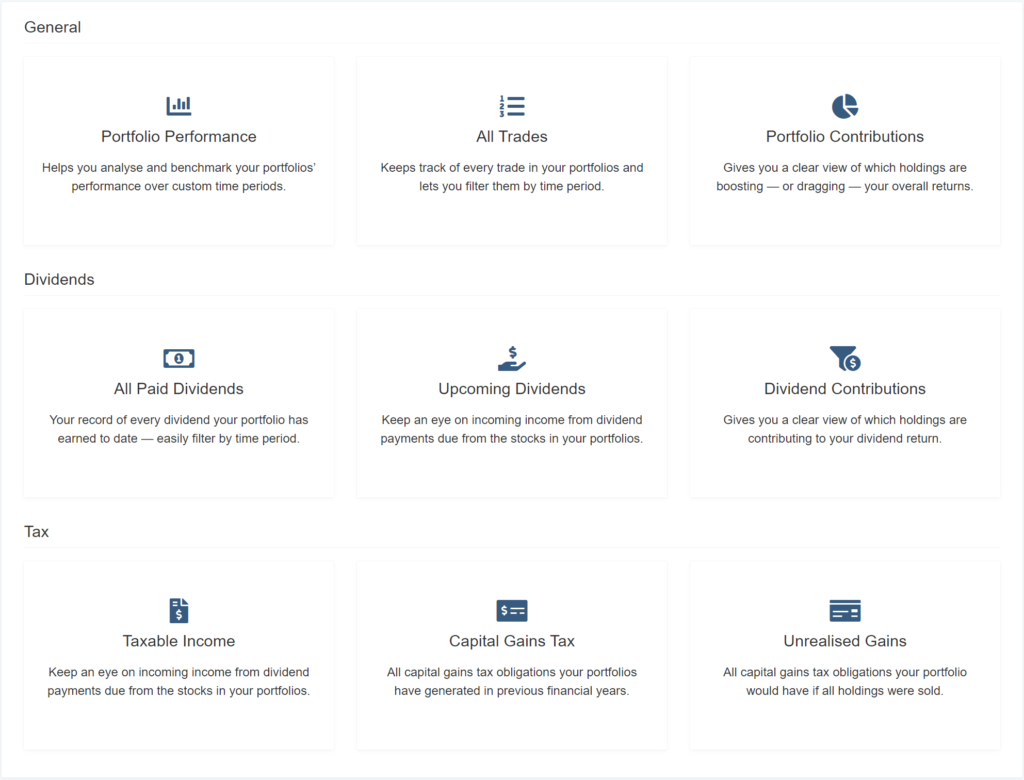 These reports allow you to quickly generate and export reports of past performance, dividends and taxable income…
And see at a glance your upcoming dividend payments and unrealised capital gains — a super useful report that allows you to check what your potential tax obligations would be were you to sell certain portions of your portfolio.
These capabilities come with regular weekly and monthly portfolio performance email updates, which include links to relevant news highlights related to holdings within your portfolio.
Using Navexa Premium to
Better Serve Your Clients
Navexa Premium takes all the core functionality of our portfolio tracker and pairs it with an additional layer of control so that professional financial and portfolio managers can track, analyse and report on as many client portfolios as they need.
Our platform has always been aimed at making monitoring investments and gathering insights easy.
Now, the ease with which you can keep track of stocks, ETFs, cryptocurrencies and unlisted holdings can help portfolio managers and their clients.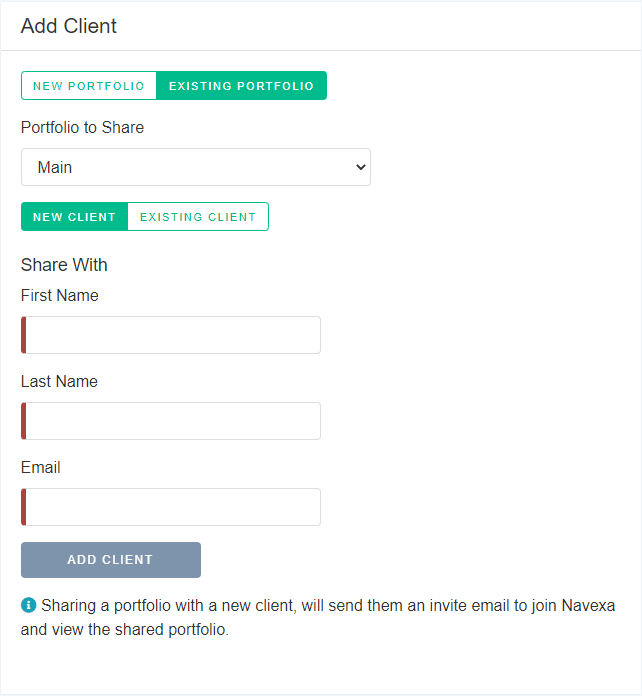 Not only does Navexa Premium allow you to keep track of unlimited client portfolios in a single account, but we've also designed it to make communicating with and serving your clients easier and more data rich.
You can easily generate and export any of the nine key reports for each client portfolio.
You can also grant 'read-only' access to individual clients, allowing them to check in on their holdings and portfolios directly.
This creates greater access and transparency between portfolio manager and client.
Who Will Benefit From
Using Navexa Premium?
If you're managing investment portfolios for clients, this is for you.
Navexa Premium gives you a powerful set of portfolio tracking, analysis and reporting tools designed to deliver actionable insights on both performance, income and tax obligations.
If you're managing multiple client portfolios, you can now manage them on a single platform that lets you prepare reports and share near-real time performance with your clients using official ASX, NYSE and NASDAQ data.
If your business is managing clients' investment portfolios, you will benefit from the powerful suit of tools we've packaged up into Navexa Premium.
Your clients will benefit, too.
If you grant them access to view their portfolio, you'll be able to build more engagement and trust with them — vital parts of maintaining healthy client relationships.
How Much Does
Navexa Premium Cost?
Navexa Premium pricing reflects the number of clients you need to track in your account.
Like our retail service, Navexa Premium subscriptions are fully tax deductible.
We currently offer three brackets of pricing (certain levels of clients trigger substantial discounts).
Pricing starts at $16 per client per month.