In this SelfWealth Review, we take a look at one of the leading platforms in a new breed of Australian trading apps making the stock market more accessible to investors than ever before.
SelfWealth is one of the growing number of app-first brokerage services aimed at self-directed investors in Australia.
Offering a zero commission, fixed brokerage fee model paired with some powerful research and analysis tools, SelfWealth serves about 80,000 Australian customers.
In this SelfWealth review, we'll cover the changing investment landscape that's led to services like SelfWealth, STAKE and others entering the market and competing with more established brokerage services.
We'll review SelfWealth's features, some pros and cons, fees, support and account types.
We'll also explain how to buy shares on the SelfWealth platform and show you how you can pair apps like this with other services (like this portfolio tracker) designed to help self-directed investors manage and understand their investment portfolios.
SelfWealth: Changing The Investing Game Since 2012
In 2012, SelfWealth joined the likes of Superhero, STAKE and eToro in the trading app market.
Like its competitors, SelfWealth offers an alternative to the problem Australian investors have faced for decades; Investing in the share market without having to pay exorbitant brokerage fees.
Since 2016, SelfWealth has offered flat free brokerage of $9.50 on every trade, no matter the size.
While they now offer much more than just flat-fee trading, this feature of the SelfWealth platform is what sets it (and its competitors) apart from the Australian investment establishment.
SelfWealth allows you to trade Australian-listed and US-listed shares in the iOS and Android apps.
Behind the scenes, SelfWealth are partnered with ANZ and OpenMarkets.
When you create your account, you're automatically set up with an ANZ holding account (you'll be given a Holder Identification Number, or HIN).
(You can't use an existing account.)
All your trades on SelfWealth are executed and settled by OpenMarkets.
While this is convenient if you don't have a pre-existing account or a preference, it may be a drawback for some.
For example, if you are trading large amounts and need to hold hundreds of thousands of dollars, you might prefer an account that pays you interest on the cash. SelfWealth's default ANZ account does not pay interest. This is worth considering before you sign up.
Overall though, most Australian users seem to like SelfWealth's accessibility and simplicity.
SelfWealth has twice won awards for being Australia's cheapest online broker, and are now at a point where they're expanding their offering beyond just low-cost, fixed-fee trading.
Part of this expansion is SelfWealth Premium, a members-only paid side of the platform where you can not only trade and track investments, but anonymously watch and follow other SelfWealth members' investment portfolios.
We'll dive into more detail about the free and premium features in this in-depth SelfWealth review.
To sign up, you'll need to provide standard identification and proof of Australian residential address, as per industry know-your-customer standards.
The process is relatively straightforward and no more time consuming than signing up for CommSec or any other share trading platform Australia.
According to SelfWealth, the standard wait time for setting up a new account is two days.
SelfWealth Share Trading Platform Features & Tools
SelfWealth offers CHESS-sponsored shares on its platform.
If you don't know about CHESS, here's a simple explanation.
Australian stock brokers let you trade two types of stocks; those that are CHESS-sponsored, and those that are not.
When a stock is CHESS-sponsored, it means the Australian Securities exchange keeps a record of everyone who owns shares in it.
Without this sponsorship, you rely on your broker, or the company itself, to keep a record of you owning its shares.
In other words, were SelfWealth to close tomorrow, all the shares you owned through it would be recorded by the exchange itself — meaning you're not at risk of losing your investments.
CHESS-sponsored shares allow you to own them directly. Not via a third-party, which is how some other trading platforms and apps operate.
This is a major benefit for SelfWealth users, as it backs up the platform's many tools and features with a strong level of basic investment security.
Now, to the platform itself.
SelfWealth doesn't just provide stock broking and share trading services.
The platform can be broken down into the following areas:
Trading
Research & Reporting
Diagnostics
Community & Benchmarking
Making trades on Self Wealth is similar to most online trading platforms. You can trade all ASX-listed stocks plus those listed on the NYSE and NASDAQ in the US.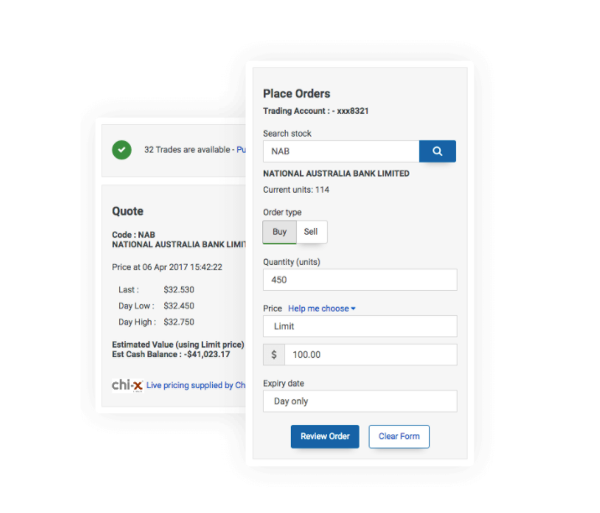 You can move funds between Australian dollars and US dollars in your holding accounts. You'll pay 0.6% when exchanging to and from US dollars — which SelfWealth claims is cheaper than its competitors.
Whether you're trading ASX or US stocks, the process is simple and self-explanatory on SelfWealth.
The platform's research and reporting tools are becoming increasingly powerful.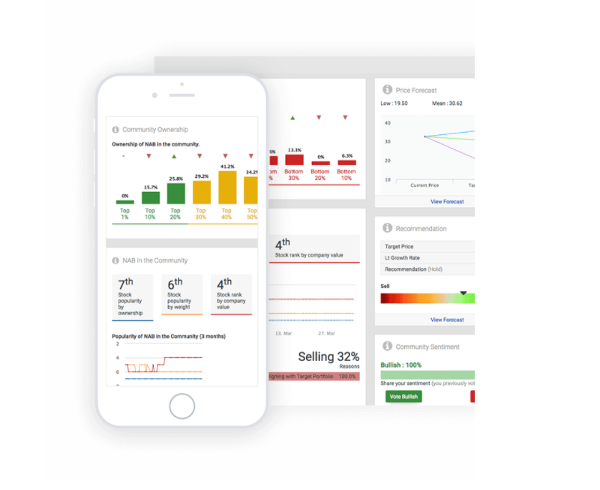 Thanks to SelfWealth's partnership with Thomson Reuters, the platform gives you a considerable amount of information with which to research, analyze and screen stocks you might be considering investing in.
The information includes the company's financials, relevant market news, analyst's price forecast and, as part of SelfWealth's push to expand the community aspect of its service, a measure of sentiment from among other users on the platform, as well as other statistics.
SelfWealth delivers its stock data via the official market feeds from the ASX, NYSE and NASDAQ with a 20-minute delay.
You can also easily set up a watchlist of equities or funds you'd like to monitor, allowing you to track them in one place and keep an eye on their progress.
The SelfWealth portfolio tracking and diagnostics tools are also helpful when checking in on your performance.
You have a standard dashboard screen showing your account balance, your daily performance relative to the market and several other in-platform metrics.
SelfWealth's Safety Rating scores your portfolio out of 40 to give you a measure of your investments' diversification, which it says helps protect your portfolio from 'the inevitable bumps in each sector of the stock market'.
The app calculates your rating based on the number of holdings, distribution, number of what it classifies as 'lower risk' holdings and overall asset allocation.
It gives you a target of 10 for each metric, meaning you're encouraged to make certain trades to meet those.
For the beginner investor who requires a lot of guidance and is perhaps buying shares for the first time, this is a nice tool. But, as Aussie Moneyman points out, for the more advanced investor who's working with a pre-existing methodology, these tools can get in the way of SelfWealth's core function as a trading platform.
Similarly, the WealthCheck Score rates your portfolio from F to A+, giving you an idea of your overall account strength relative to performance, SafetyRating and valuation.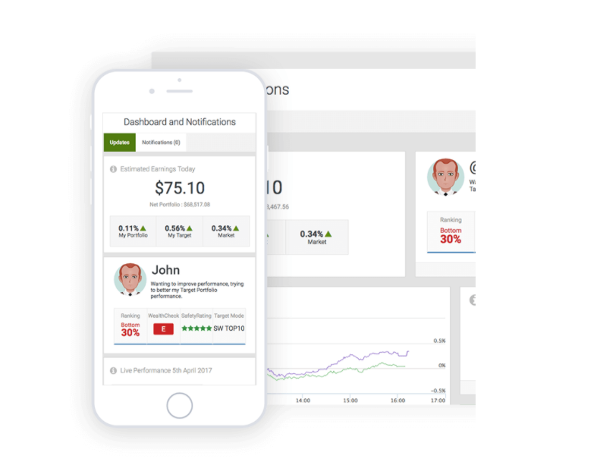 SelfWealth Premium, Target Portfolios & Alignment
When you create a SelfWealth account, you're automatically enrolled in their Premium membership plan.
Several of the tools and features mentioned above are part of the Premium plan, which you can access free for 90 days — a generous trial period — before deciding whether to downgrade to the more basic free version, or paying $20 a month.
The big difference between the free and paid versions of SelfWealth is community interaction and portfolio analytics.
As a Premium member, you can follow other members (anonymously) to see what they're trading and how their portfolio is performing. Then, you can create a target portfolio based off the top 10 performing members you follow.
This is a model portfolio based on the top weighted holdings in those portfolios.
Why would you need to do this? Because SelfWealth Premium then uses the Alignment Tool to show you the extent to which your portfolio differs from your target portfolio.
SelfWealth pitches this as a modern, superior alternative to simply benchmarking your portfolio against the market. While it might be useful to invest using a target portfolio made up of your favourite traders' biggest positions, Aussie Moneyman's opinion that some of SelfWealth's features won't suit the more advanced, self-directed investor applies here.
Because SelfWealth Premium's community remain anonymous from you (and you from them), it could be difficult to determine whether the users you're following have generated their returns by design or by accident.
And since the market is a reflection of the opinions of many parties, there would appear to be a risk that SelfWealth users may stumble upon good portfolio performance simply by following others, as opposed to doing their own research or following their own investment methodology.
SelfWealth Supports Individuals, Companies, Trusts & More
As we mentioned, there's two levels of SelfWealth membership; Free and Premium.
Both come with an ANZ holding account and HIN as standard. Both execute and settle trades using OpenMarkets.
Whether you downgrade after your 90-day Premium trial, or you opt to stay with Premium for $20 a month, you'll only ever pay $9.50 for each trade (and 0.6% on AUD/USD exchange when shifting funds to trade either Australian or US-listed shares).
Here's the full list of paywalled features: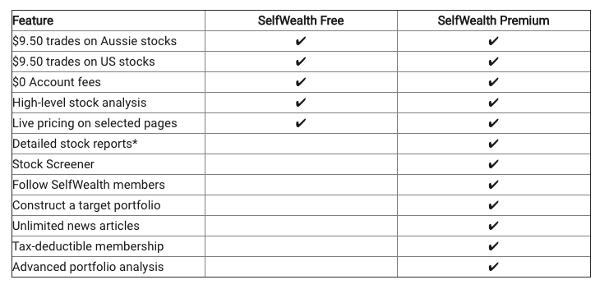 SelfWealth, despite its name, isn't only available to private, solo investors.
The platform supports individual trading accounts, joint accounts (married couples investing together, for example), company accounts, trust accounts and even Self Managed Super Funds (SMSFs).
This makes the platform accessible for many different purposes and gives investors from right across the spectrum an affordable on-ramp to the Australian and US stock markets.
What you won't find on SelfWealth are cryptocurrencies. While you can trade stocks and ETFs as an individual, company, trust or SMSF, you can't access Bitcoin, Ethereum or any of the other cryptos many platforms are making available to their users.
While SelfWealth does provide a valuable, low-cost platform with plenty of options for research, trading and investing, they're missing what's fast becoming a major part of Australian investors' (especially younger investors') portfolios.
By 2025, more than half of Australians under the age of 40 are predicted to own cryptocurrency.
If you're one of these people, this is a downside to SelfWealth. It means you need to have a SelfWealth account for your traditional investments, and another — like eToro, for example — for your crypto trading.
If you are investing in both and you end up with two accounts for stocks and crypto, then you can track, analyze and compare both portfolios in Navexa.
The SelfWealth Customer Support System
Like many modern trading platforms, which are replacing the face-to-face customer-broker relationship of decades past, SelfWealth provides customer support and communication exclusively by email and live chat.
Their website points out that in order to maintain their $9.50 flat brokerage fees, they save money by not offering phone support.
For most customers, this doesn't seem to be any drawback to trading with SelfWealth.
SelfWealth's client services team aims to respond to all email enquiries within two days. But it's their live chat channel where they focus on instant assistance and resolution. Open from 10am to 4pm Monday to Friday (and closed public holidays, just like the markets), SelfWealth's live chat support is great for getting prompt responses to questions that might arise while using your account.
You can access their client services team through SelfWealth's social channels, plus find answers to common, non-account specific queries on their blog and FAQ page.
Overall, SelfWealth's customer service is prompt, accessible and befitting of a digital-first trading service that focuses on providing an affordable, straightforward online experience.
SelfWealth Trading Fees & Commissions
SelfWealth's $9.50 flat fee is (nearly) the lowest in Australia. When you compare it with the big four banks, like ANZ for example, it's about 50% cheaper.
For larger trades, SelfWealth's flat fee becomes even more competitive.
Take a look at CommSec's trading fees, and you'll see that on a $50,000 trade, you'll pay about $600 in brokerage compared with the flat $9.50 on SelfWealth — a fraction of the price.
Unsurprisingly, SelfWealth point out just how much cheaper they are compared with some of their established competition. See the graphic from their website: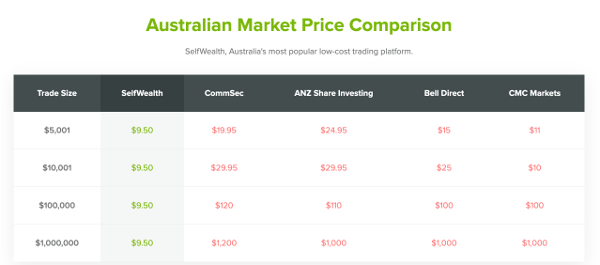 You can see that, especially as your trade size increases, the savings you can make become substantial.
For instance, were you to enter a trade for $1,000,000, SelfWealth's flat $9.50 works out to be just 0.79% of what CommSec will charge for the same transaction.
While CommSec does offer perhaps the most powerful research-led trading platform in Australia, on a fees-only basis, SelfWealth is far more attractive.
Especially when you consider, as we mention above, that thanks to SelfWealth's partnerships with ANZ and OpenMarkets, they offer you a HIN-equipped cash account and access to CHESS-sponsored shares.
But trading fees are just one aspect of SelfWealth's financial proposition.
It's important to note that as well as charging $9.50 per trade — no matter the amount — SelfWealth does not take a commission on any profits you make from your trades.
This is significant, since there are some situations (like investing with a portfolio manager or adviser, for example) in which you'd have to pay a percentage of your returns.
If you made a 50% gain on a million-dollar trade, for instance, and you had to pay a 2% commission, that'd be $10,000 you'd have to hand over.
You don't need to worry about this when trading with SelfWealth.
How To Buy Shares On SelfWealth
Buying shares on SelfWealth is fairly self-explanatory and similar to what you'll find across other apps and more traditional trading platforms.
Before we walk you through the simple steps you need to take to set up and execute a trade, there's a couple of things you should know.
First, there's no minimum balance required when you open a SelfWealth account. And you don't need to keep up a certain balance requirement, nor make a certain number of traders per month.
While some services might require you to keep a minimum balance or trade number in order to keep your account active, SelfWealth doesn't impose these requirements — which fits well with their ethos of accessible, affordable trading for everyday Australian investors.
The one limitation you will find when making a trade on SelfWealth is the ASX's standard minimum trade value of $500.
Here's how to enter a trade.
On your SelfWealth dashboard, you'll see a section called 'Trading'.
The first option in this section is 'Place Orders'.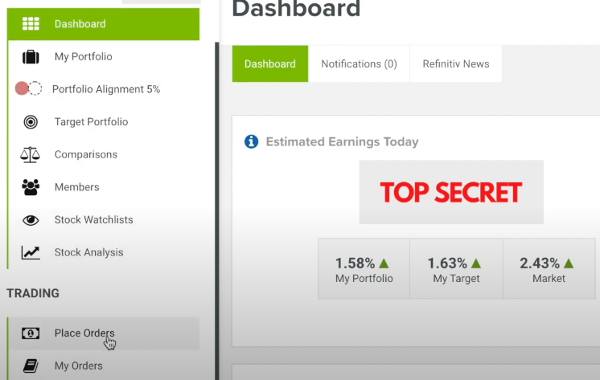 This will take you to a standard order form similar to what you'll find on CommSec, for example.
First, use the ticker symbol to search for and select the stock or fund you want to trade.
If you already hold shares in it, you'll see the amount and value displayed right below the search field.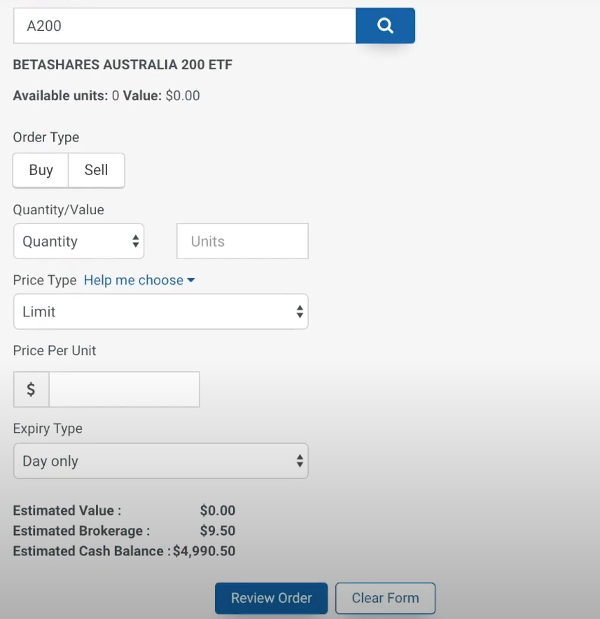 From here, the fields and buttons are straightforward.
Select 'Buy' or 'Sell'. Choose whether to trade based on quantity or value, how you'd like to select the price you pay, price per unit and the expiry type for the trade.
Completing these fields will populate the numbers you see at the bottom; Estimated Value, Estimated Brokerage (always $9.50 when trading with SelfWealth, of course) and your Estimated Cash Balance once the trade is completed.
There are two other panels on the trading screen.
At the time you select the stock or fund in the search field, SelfWealth generates a quote to help you set up your trade.
As you can see below, the quote gives you key numbers: Bid price (what buyers are paying at the time of the quote), offer price (what sellers are prepared to sell for), the last price the stock or fund traded for and the day's low and high price.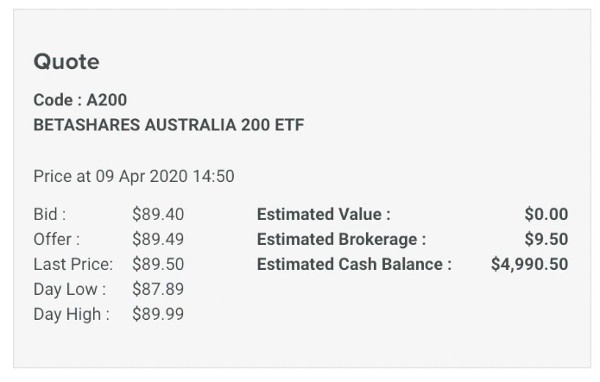 The quote panel is a useful guide for setting up your trade. But it's not the only tool on the trading screen. You can also view 'Market Depth'.
This panel shows you the most recent trades. You can see a snapshot of how many shares have changed hands and at what price. This can be helpful for getting an idea of liquidity and sentiment around the stock or fund you're trading.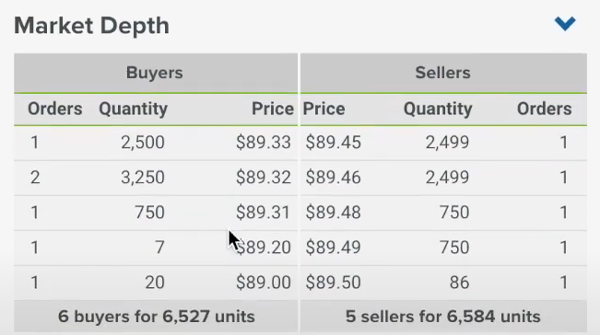 For a more detailed breakdown of how to trade on SelfWealth, check out this video guide.
Once you've set up your trade and you're happy with all the details and ready to proceed, it's time to hit 'Review Order' at the bottom of the fields.
This will bring you through to the review screen: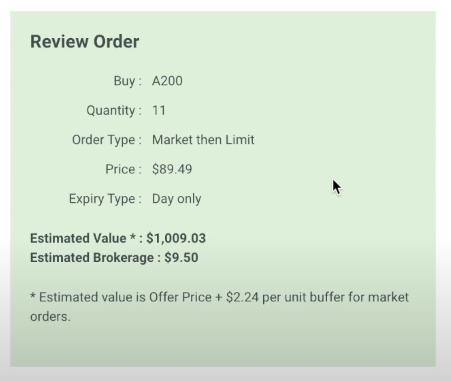 Double check your order details and if everything looks good, click confirm.
You'll also see a short questionnaire on the right of the review page.
This is optional, and allows SelfWealth to collect information on the stock or fund, your reasons for trading it and, probably most importantly, whether you're bearish or bullish on the trade.
Our SelfWealth Review: The Verdict
This brings us nearly to the end of our SelfWealth review.
We've covered SelfWealth's background, features and tools, account types, trading fees, customer support and walked you through the basics of how to execute a trade.
SelfWealth is a great example of a modern trading app that gives you an affordable, accessible way to trade Australian and US shares and ETFs.
It's flat $9.50 trading fee makes it if not the cheapest service of its kind in Australia, then certainly one of the cheapest.
When you compare SelfWealth to the likes of CommSec, you can see that on larger trades, you stand to save substantial amounts of money by using this platform.
Not only is SelfWealth — and other apps like it — disrupting the investing establishment with their low fees, but there's plenty on the platform that leverages the online world that younger investors are familiar with to enhance the trading experience.
Specifically, SelfWealth's target portfolio and user profile and following functions provide novel and interesting ways for beginner investors, in particular, to start trading and building a portfolio.
As always though, we encourage you to do plenty of research of your own on SelfWealth — and its competitors — to determine which trading platform might suit you and your investing style best.
Trading With SelfWealth? Track With Navexa.
One part of SelfWealth that's not as thorough — since it's not the platform's core service — is its portfolio tracking.
Your portfolio page is great for gaining a snapshot of your portfolio day to day.
But what you won't find on SelfWealth are in-depth, real money-terms portfolio analytics.
Yes, you can benchmark your account to the wider market.
But you can only track your progress so far.
Let us explain.
The rise of self-directed and the so-called 'democratization' of investing (the movement of which SelfWealth and its competitor platforms are a part) is making it easier than ever to invest and trade.
But what many new investors are forgetting — or not being told the first place — is that there's a difference between gains and true performance.
Your trading account might show you how much money you've put into your portfolio, and how much you've gained or lost. But the reality is, that is only a part of the full financial picture you need to see when it comes to growing and managing your investments.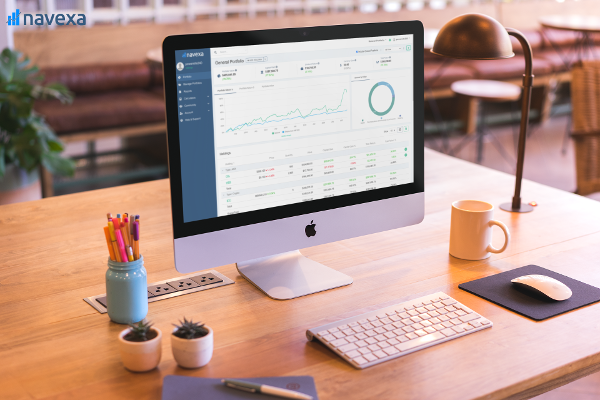 Four Things You Must Know About Your Portfolio Performance
Here are four vital things you need to know in order to fully understand the value and performance of a given investment, and your wider portfolio.
How much time have you invested to generate a return? Consider that a 100% gain in a year is far more desirable than a 100% gain in five years.


How much tax do you pay on your investments? Do you know how much you need, or might need, to pay on the returns you earn from an investment or portfolio? If you have to give 20% of your returns to taxation, you need to see that reflected in your portfolio performance — since that money isn't going to stay in your account.


How much income have you earned from dividend payments? One stock our founder owns has paid him back 40% of his investment in dividends. This substantially affects how you should view an investment's performance.


How much have you spent in fees? If you've been investing for 20 years, making, say 25 trades a year at $20 a trade, that's $10,000. However much you spend on fees in the course of your trading, you need to factor that in to fully understand your portfolio performance.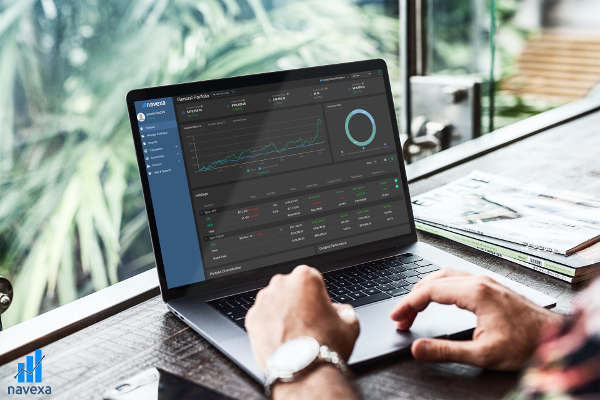 When you're buying and selling stocks and building up a portfolio, many of us think it's enough to see our 'gains' in our trading account.
Here at Navexa, we believe that in the most connected and data-rich era of financial history, there's no excuse for not knowing the exact details of every dollar going into and out of your portfolio.
The truth is that there's are many more things impacting your portfolio than just whether or not the investments in it have gone up or down this week or month.
This is why we developed Navexa. It's a portfolio tracker that accounts for every factor impacting your investments — time, taxation, income and fees.
You can use Navexa seamlessly with a SelfWealth account (you can add your historical trades and link your account in minutes) to see your portfolio in the depth and detail you need to fully understand your performance.
Plus, you can generate a variety of reports, from calculating unrealized capital gains and taxable investment income, to analyzing portfolio diversification contributions, and much more.