CoinSpot is a major Australian cryptocurrency exchange used by thousands across the country to buy and sell Bitcoin, Ether and alt-coins. Navexa supports file uploading for CoinSpot users, allowing you to easily add your cryptocurrency trades from your exchange account there to your portfolio tracking account with us.
This year, the team here at Navexa has been working on making it easier for you to get started using your portfolio tracker account.
It's true that Navexa provides a data-rich portfolio tracking experience, and that our platform offers a wealth of tools on top of a complex performance calculation methodology (helping you to understand your portfolio and individual holdings better, get a clearer picture of your capital gains and income tax obligations, clearly see your portfolio diversification, contributions and more).
But, it's also true that it can take time and effort to get all your historical trade data into your account so that you can start benefitting from these tools.
This is why we've been hard at work on our Broker File Upload process.
These are customized importing processes we design for specific broker file formats.
To Date, We've Launched Support For Eight Australian Broker File Types
Those are; ANZ, CMC Markets, CommSec, NAB Trade, STAKE, SelfWealth, Superhero and Westpac.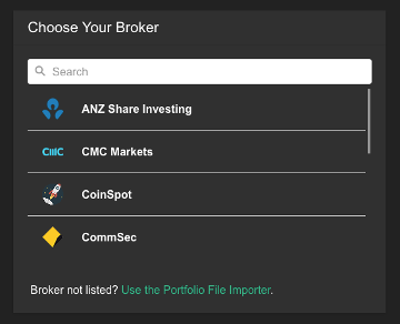 Today, we're pleased to announce that — in collaboration with our fantastic community, as always — we've added CoinSpot to that list.
CoinSpot is the first cryptocurrency exchange that Navexa supports for file upload.
How To Import Your CoinSpot
Trades Into Your Navexa Account
IMPORTANT: You do not need to share your CoinSpot login details with Navexa. All you're sharing is a file that shows your trading activity and allows us to — 100% securely and confidentially — upload that information to your Navexa account.
Step 1: Log in to your CoinSpot account.
Step 2: Under 'My Account', select 'Order History'.
Step 3: Click 'Buys/Sells CSV'.
See below for steps 1 and 2.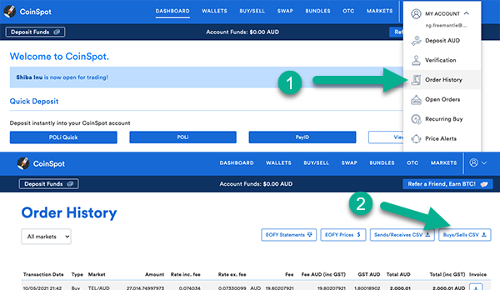 Once you've downloaded it, click 'Choose File' to select it from your computer.
Then, just hit the 'Upload File' button.
Depending on the size of the CoinSpot file you're uploading, it should only take a few minutes for Navexa to add the historical trade data to your account.
Please be aware larger files can take a little longer.
You'll see an email notification when the upload is complete.
Then, you'll be able to use your Navexa account to browse all your historical trades and holdings.
This is the fastest way to add historical trade data from your CommSec trading account to your Navexa account.
So there you have it.
It's now easier than ever to add you historical crypto trades from your CoinSpot exchange account to your Navexa portfolio tracking account.
Once you've uploaded your file, you'll be able to see full annualized performance for both your portfolio as a whole and every individual trade it it.
You can benchmark your performance, analyze custom date-ranges and access our suite of 10 advanced reporting tools to better understand and analyze your crypto portfolio with the same level of detail and insight you could expect for regular ASX, NYSE or NASDAQ investments.
Don't have a Navexa portfolio tracker account yet? Register here!