Understanding the Portfolio page
---
The Portfolio page is your main dashboard to see your investments overall performance.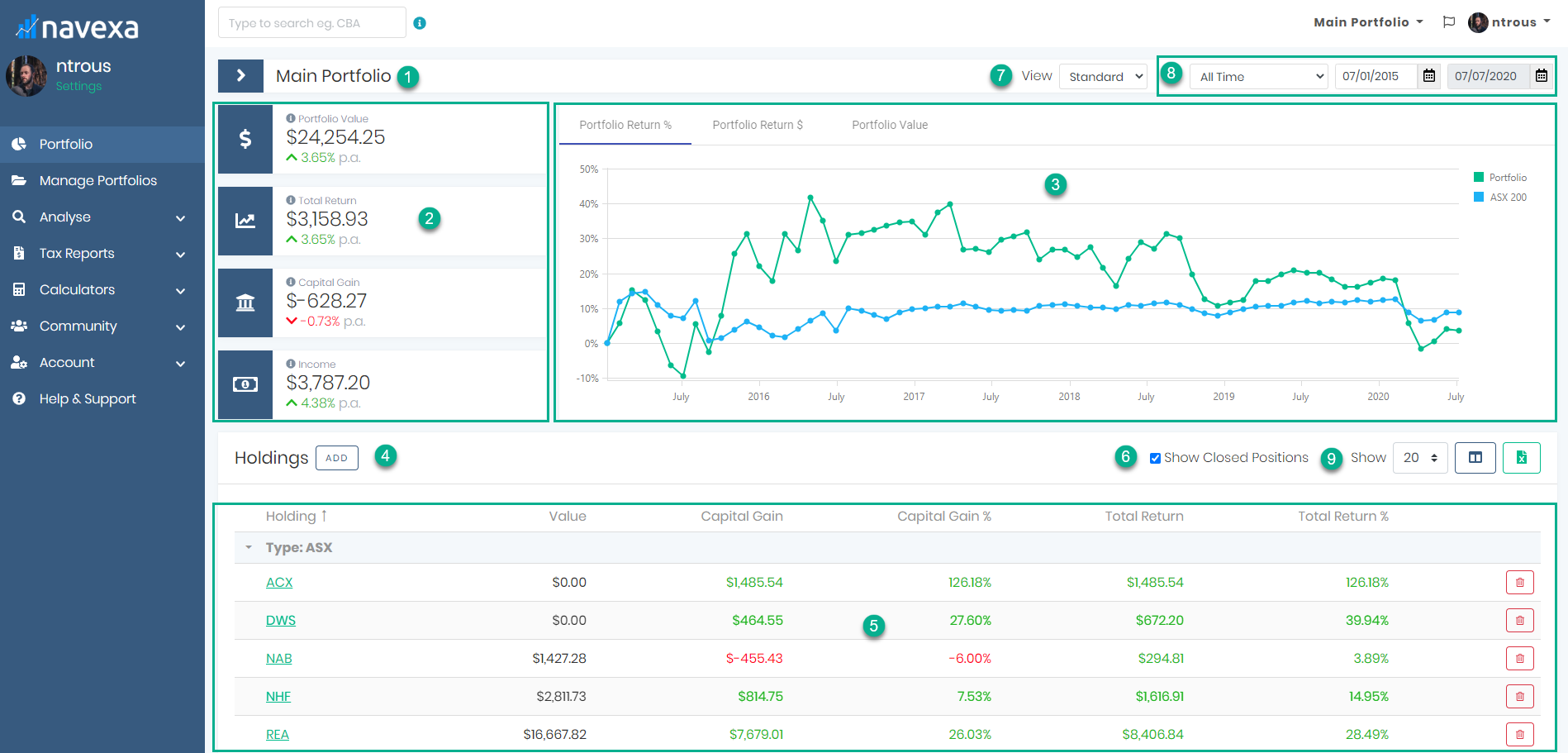 1. Portfolio Name: This shows which Portfolio you are currently looking at. Navexa supports multiple portfolios on the 'Australian Investor' and 'Investor plus' plans.
2. Performance Summary
This section shows four things:
Portfolio Value: The overall value of the portfolio and overall return percentage.
Total Return: This is the value of the total return for the portfolio (capital gain + dividend return) and the overall return percentage.
Capital Gain: This shows the portfolio's capital gains. This does not include dividend returns.
Income: This value is the total income you have received through dividend payments. It also shows the percentage return of those payments.
3. Portfolio Charts: In this section there are two tabs showing two different charts.
Portfolio Return %: This chart shows the total return in % for the selected date range.
Portfolio Return: This chart shows the total return value of your portfolio over time.
Portfolio Value: This chart shows the total portfolio value over time.
4. Add Holding: The 'Add' button takes you to the 'Add Holding' screen for inputting stocks, crypto assets or cash accounts (cash accounts are available on all paid plans). See more about adding a holding.
5. Holding List: This shows you a summary of all open positions in your portfolio (learn how to toggle closed positions in section 6).
There are multiple columns showing the name of the holding, capital gains, dividend return and total return. There are additional columns that can be enabled. See section 8.
From the Holding Llist you can delete holdings by clicking the trash can icon on the far right of each holding.
6. Show Closed Positions: This toggle lets you view closed positions in the holdings list. A closed position is an investment that you have completely sold off. For example if you buy 100 NAB shares, then one year later sell 100 NAB shares, you have closed this position.
7. View Selector: Navexa provides a few different views to get the best from your portfolio overview. This selector drop down lets you change which view you would like to see.
8. Date Range Selector: From here you can select various preset options from the dropdown, like 'All Time', 'Last 30 days' etc. You can also specify a particular date to start from. Currently you cannot change the 'To' date as this defaults to the current day.
9. Holding List Settings: The first option in this section lets you set how many holdings you would like to see at once before you have to go to the next page.
The blue cog icon brings up the column selector, which allows you to enable and disable certain columns in the holdings list. This lets you customise the list so you can view only the columns you choose.
The green Excel icon will export the holdings list to an Excel file format.