You can now track your investment portfolio, add and analyse holdings and more with the Navexa mobile app!
Last week, we launched our new portfolio tracker app on the Apple and Google mobile app stores.
Why?
Reason number one is that our users have been asking us for months when they'd be able to start using Navexa on a mobile app.
Since we launched our service, we've sought to let our customers lead us in how we develop and deliver Navexa.
We're building our portfolio tracker and online community to be what Australian investors need it to be.
Our mobile application is part of that.
And the deeper mission beneath our new app and our ongoing improvements to the Navexa software and interface is this:
We want to free our users from relying on third parties to understand and analyse their investments and wealth-building.
What Can You Do
With The Navexa App?
The Navexa mobile app is a stripped-back version of the full desktop service.
You log in using your existing credentials or set up a new account if you're using Navexa for the first time through the app.
Once you're in, your portfolio screen shows you four key things: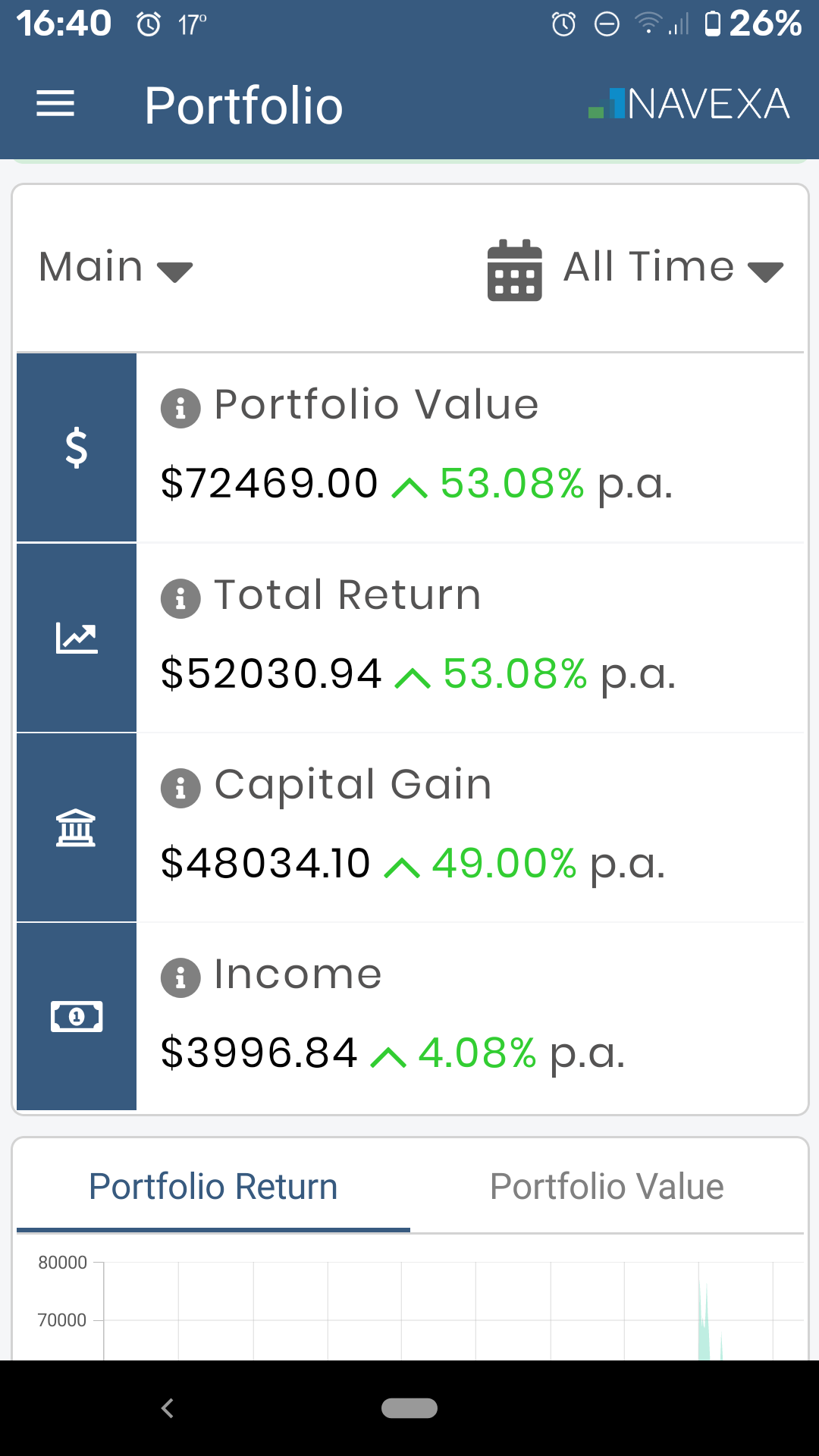 Your portfolio's current value alongside the annualized return.
Your total return expressed in dollars.
Your capital gain expressed in dollars.
And the total income your portfolio has earned.
You can use the dropdown menu at the top right of this table to change the timeframe for those metrics.
Below this, you have compact charts showing portfolio return and value.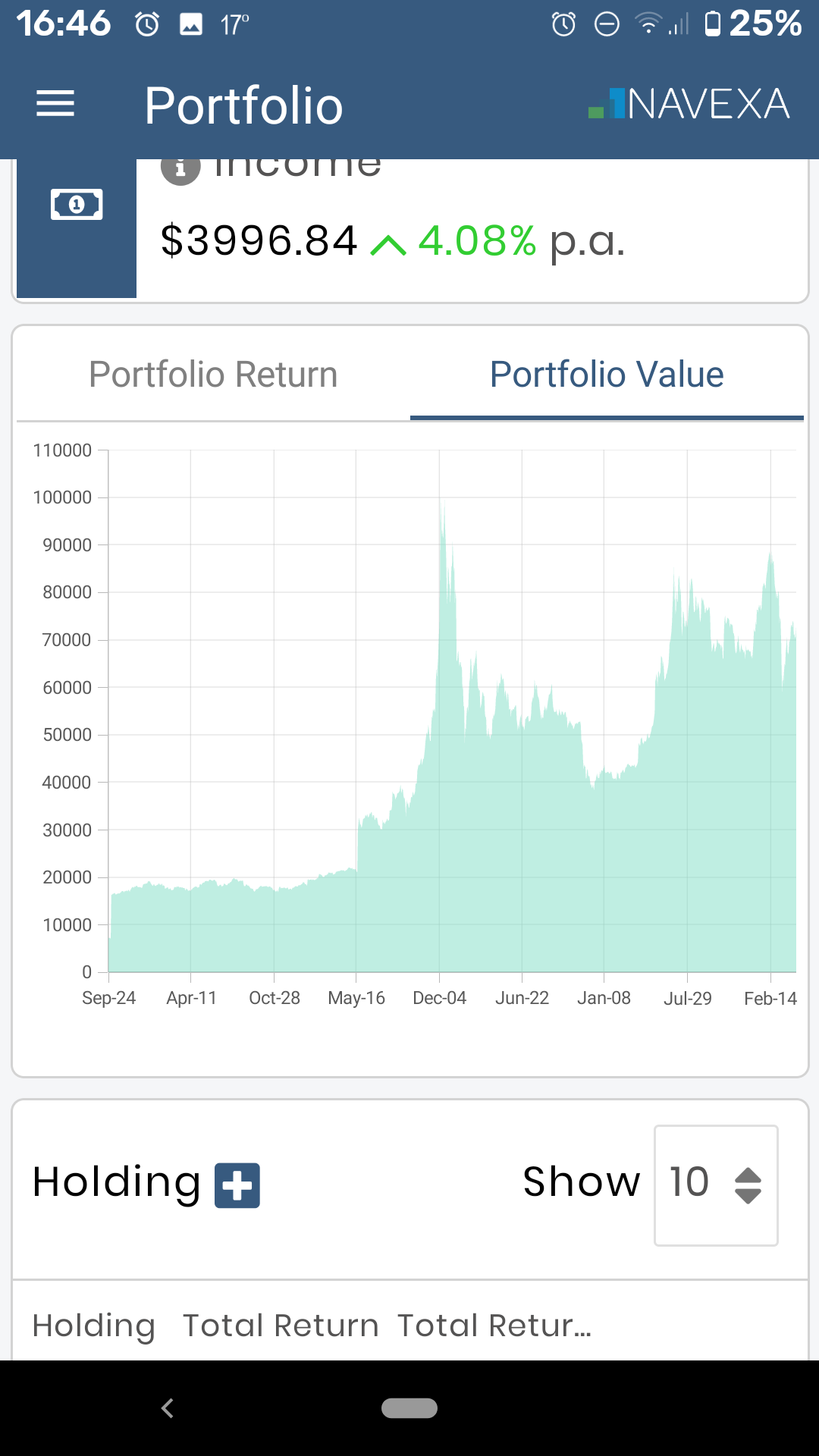 And below your charts, you'll see the holdings list.
This lists your holdings alphabetically and shows you their current dollar value plus their percentage return for the given time period.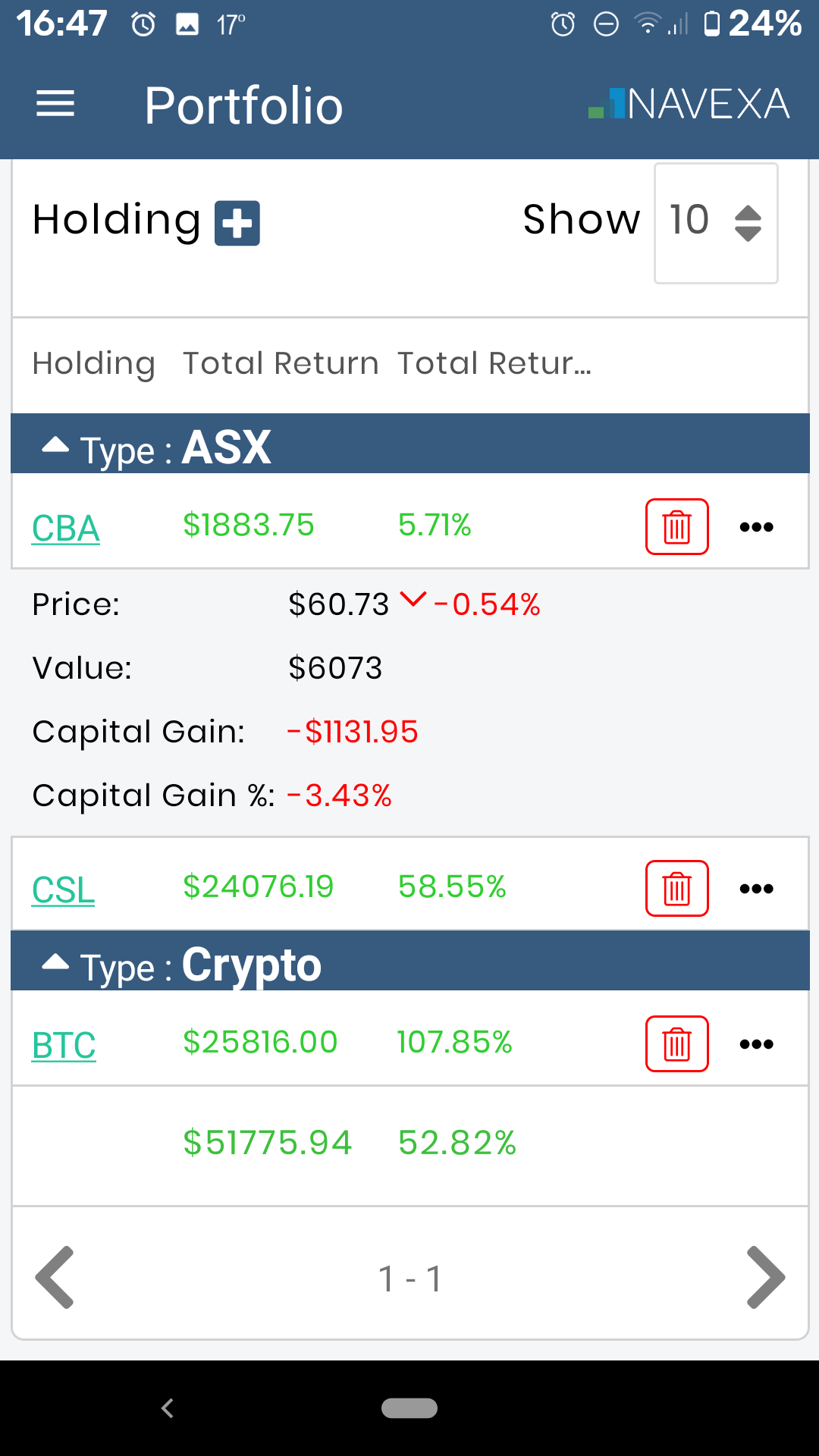 Click the three dots on the right of each holding to see more details on each.
Click the plus icon at the top left of the holdings list to add a new holding to your account.
Track Your Portfolio On The Move
As we just mentioned, the Navexa app is a stripped-back version of the full service.
You can't generate tax reports or view portfolio contributions analytics, for example.
But we may look to add these to the mobile app if our users feel they require that functionality with Navexa on their phones.
The aim for now is to give you a simple, fast way to get a read on your portfolio's performance wherever you are.
You'll see in the settings menu that you can change your username, toggle whether you want to make your account public (to other Navexa users) and control whether you receive your weekly and monthly portfolio summaries.
If there's features you want to see in future versions of the Navexa portfolio tracker app, we're all ears.
Drop us a line at [email protected].
If you want to download it free and get started right away, use these: